519-940-8333
Request An Appointment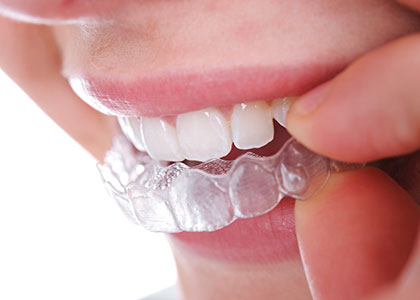 Invisalign®
A Modern and Clear Way To Straighten Your Teeth
Have you dreamed of having straight, perfect teeth but have been too embarrassed to wear metal braces, especially as an adult? It's time to stop feeling self-conscious. Instead of wearing uncomfortable metal braces, patients interested in straightening their teeth have another option – Invisalign® invisible braces in Orangeville . It's the one solution that totally suits your lifestyle.
Invisalign® is a fairly new type of teeth alignment technology that can straighten crooked, crowded, or spaced-out teeth with a series of clear, plastic aligners. Each aligner, which is typically switched out bi-weekly, is formed to fit each patient's unique dental profile, gradually shifting each tooth into a correct and aesthetically pleasing position. Invisalign® braces are usually worn from 4 to 12 months to achieve results.
Invisalign® aligners must be worn around the clock for most effective results, but can also be removed to eat, drink, brush your teeth, or for special occasions. Best of all, the most obvious advantage of Invisalign® invisible braces is their invisible, discreet appearance, so you can retain confidence in your smile during the entire process.
If you're ready for a new smile that will transform your appearance, call or come to our office for a smile consultation with Dr. Ryan at Broadway Dental Centre in Orangeville, about Invisalign® today.